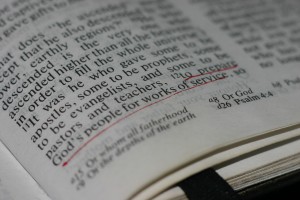 I think Life Verses are probably a bit of a marmite thing – you either love the idea, or hate it/don't see the point. I must confess that I haven't read any direct explanation of what they are, so I've inferred it from some of the youthwork books I've read and my own personal experience. As a concept, they perhaps grab youth a bit more readily, but I think there may be value whatever your age.
In essence, and as I understand it, a Life Verse is a particularly verse from the Bible that you feel God has given you as a ongoing guide and 'touchstone'. It is a verse to keep coming back to again and again, when times are good and when times are bad. It's a verse to memorise, and read again when facing life's decisions. It may be because the content of the verse is particularly relevant, or because it was a verse that was given you to at an important or special place or time, and revisiting the verse takes you back there.
Either way, it's a particular verse that speaks to you of God and His goodness, and His plan for your life, that is special to you. Probably worth mentioning that I don't think it's set in stone either, and your verse(s) may change as you time goes by.
How do you choose a life verse? Well, at the risk of going all Harry Potter, I think it chooses you; you just have to be open to God speaking. I certainly wouldn't suggest starting at Genesis 1 and reading through until you find one! Keeping a journal is a good starting point – write it down when something strikes you or especially speaks to you (perhaps during a
Lectio Divino?). Write it down when someone has a word/passage for you. I intend to write about journalling in a future post, but it's a discipline I highly recommend.
It may be this increased awareness/intentionally is enough – that you find a verse that immediately says "Life Verse" to you. It may take some deeper reflection and thought, and looking back through your journal. I would probably recommend avoiding the 'obvious'/general ones, like I know the plans I have for you in Jeremiah, or For God so loved the world in John 3, unless these are promises that seem particularly relevant and personal to your circumstances or background. A Life Verse is a verse that is tailor-made for you.
I have two life verses at present. The first is from Ephesians 4.

So Christ himself gave the apostles, the prophets, the evangelists, the pastors and teachers, to equip his people for works of service, so that the body of Christ may be built up until we all reach unity in the faith and in the knowledge of the Son of God and become mature, attaining to the whole measure of the fullness of Christ.
Ephesians 4:11-13
My heart is for "equipping the saints." Or perfecting, or preparing, or training, or knitting – however you choose to translate katartismon.
The second is from Jeremiah –
Then I will give you shepherds after my own heart, who will lead you with knowledge and understanding.
Jeremiah 3:15
How did I choose these? Well, Ephesians 4 was a no-brainer. It was immediately clear to me as my calling when I started my serious walk with God, Jesus, and the Holy Spirit some 18 years ago. Jeremiah came a little later in the course of my 'daily' scripture reading. Again when I read it is leapt out at me as a twofold promise, (a) that God will provide shepherds, and (b) that they will be after God's own heart, and lead with knowledge and understanding. The logical conclusion is that if God were to provide me as a shepherd, I will be after His own heart, and lead his people with knowledge and understanding. This is and has been an enormous comfort and encouragement to me as a potential leader.
I received both these verses before I knew anything about Life Verses. When I set out to discern my own Life Verse, the approach I took was to set aside an afternoon to write down all the verses I'd felt God had spoken to me through specifically. This included all the verses I've underlined or highlighted in my Bible, and any I'd written in my journal. This in itself was an interesting exercise, as I'd anticipated there would be perhaps 5 or 10 – instead of which I filled 3 sides of A4!! I knew Eph 4 would be one before I started, and as soon as I re-read Jer 3 I knew this was one as well. Nevertheless I completed the exercise, and decided to allow a couple of weeks to pray and reflect on which specific verses I should choose. This didn't change the outcome, and actually the process of writing them all out was potentially more of a hindrance than a help – just revisiting them all was enough as it turned out.
So I guess the message is don't sweat it. If the concept resonates with you, then you are probably already pretty close to having a Life Verse. It may be not a way God wants to speak to you/guide you at present, and it is certainly no substitute for time spent getting to know the Lord, His ways, and His voice. However it just may be something that you find helpful…